Our Thai Restaurant & Cafe is a family owned and operated restaurant serving the Vaughan area since 2007. With 15 years of experience in the restaurant industry we have seen first hand the rise in popularity in Thai cuisine. The combination of  fresh ingredients and aromatic herbs and spices give each dish a tasty blend of salty, sweet, sour and spice in every bite. Although Thai food is known for its spiciness, not all dishes are spicy. Other essential ingredients include Thai basil, cilantro, coconut milk, curry paste, fish sauce, galangal root, ginger, lime leaf, lemon grass and tamarind. Most dishes are lightly cooked so it is crisp, colourful, sharply flavoured and healthy. Ideally, Thai food is best when shared among families and friends with all the dishes served at once. This allows each of our guests to fully appreciate all the different flavours.
Our menu offers popular Thai staple dishes such as the Pad Thai, Green Curry and Tom Yum Soup. You will also find unique flavours in our Papaya Salad and Satay Beef Noodle soup. Whether you are a foodie or new to Thai cuisine, there is something for everyone to enjoy.
Being recognized by our customers is the best reward we can ask for. We want to thank all our wonderful customers for voting in the various awards these past few years. We are humbled and so appreciative for the recognition.
[one_third]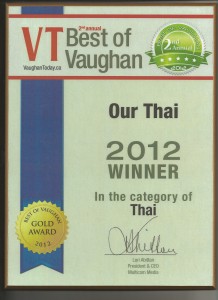 [/one_third] [two_third_last]Gold Award in the 2nd annual Vaughan Today's Best of Vaughan. [/two_third_last]
[one_third]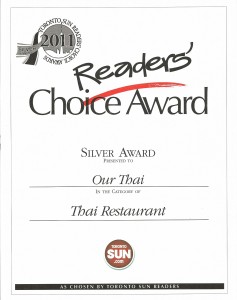 [/one_third] [two_third_last]Silver award in the 2011 Sun Reader's Choice Award. [/two_third_last]
[one_third]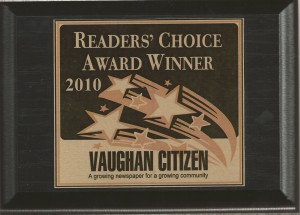 [/one_third] [two_third_last]Vaughan Citizen's Readers' Choice Award in 2010.[/two_third_last]